Senior Chemist Erica Anderson will discuss Hallstar's innovative research in polymeric esters as part of the New Commercial Development track at the International Elastomer Conference. Hallstar's chemists are frequent speakers at this annual meeting, which is organized by the American Chemical Society's Rubber Division. Erica has also been invited to present our Industrial Solutions team's research on low polarity elastomers at the RubberTech Expo in Shanghai, China.

See presentation abstracts below. We will update this page with the presentations' specific dates and times as they are announced.
New Polymeric Esters for Low Polarity Elastomers
by Erica Anderson, Dejan Andjelkovic, Sean Neuenfeldt, and Stephen Semlow
ABSTRACT: Low polarity elastomers such as EPDM, IIR, and low-ACN (H)NBR have traditionally been used in applications requiring low temperature performance and strong resistance to highly polar solvents, such as water. Currently, plasticizers for these low polarity elastomers are limited to inexpensive process oils, including napthentic, paraffinic, and other petroleum-based products, and low molecular weight monomeric esters, such as dioctyl sebacate (DOS) and diisodecyl adipate (DIDA). However, these plasticizers suffer from exudation, weight loss and lack of permanence during regular use of resulting compound products, especially if these compounds are exposed to elevated temperatures. This paper provides information on newly developed polymeric esters specifically designed to be highly compatible with low polarity elastomers, specifically EPDM. The polymeric nature increases plasticizer permanence without sacrificing low temperature and general mechanical performance. The test data will include initial mechanical and low temperature properties, as well as change in these properties after heat aging and fluid exposure. The information provided indicates the permanence of plasticizer is key to maintaining compound performance after extended product use.
Structure-Property Relationships (SPR) of Partially Unsaturated Polyester Modifiers in Peroxide-Cured HNBR Formulations
by Erica Anderson, Dejan Andjelkovic, Henry Regnery, Stephen Semlow
ABSTRACT: This paper focuses on basic SPR analysis related to polyester plasticizers used in peroxide-cured HNBR systems. Researchers know that increased MW of polymeric ester plasticizers increases permanence and retention of physical properties upon aging at the expense of plasticizing efficiency. Therefore, higher levels of high MW plasticizers are needed to achieve required hardness and tensile properties thus leading to the overall higher performance of HNBR compound articles at the slightly higher cost. For higher cost elastomer systems like HNBR, increased cost is acceptable if superior performance is achieved and maintained. While higher MW of plasticizers represent a straightforward route to meeting high performance requirements, higher viscosity of these plasticizers may create handling and processing issues. As an alternative to this approach, reactive unsaturation built into the plasticizer molecule represents another option explored occasionally in the plasticizer industry. This paper focuses on the relationships between the unsaturation level in polyester plasticizers and its effects on the overall performance of resulting peroxide-cured HNBR compounds.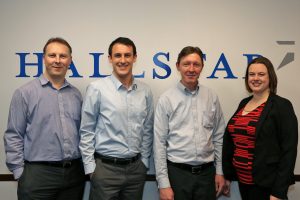 Dejan Andjelkovic, Sean Neuenfeldt,
Steve Semlow and Erica Anderson
of Hallstar's Industrial Solutions R&D team
at our Bedford Park, Illinois, facility
International Exhibition on Rubber Technology
(China RubberTech)
September 18-20, 2019
Shanghai, China
International Elastomer Conference
(Rubber Show)
October 8-10, 2020
Cleveland, Ohio, USA